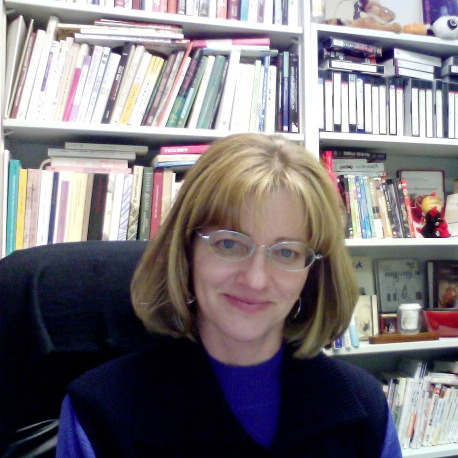 Mary Knighton
Professor

American literature and culture
Contact Info:
mknighton@cl.aoyama.ac.jp
+81-(0)3-3409-8283 (Ext. 12778)
Aoyama Gakuin University Goucher Memorial Hall Bldg. 15, G908 4-4-25 Shibuya, Shibuya-ku Tokyo 150-8366 JAPAN
Mary A. Knighton, Ph.D., Professor of Literature in the English Department at Aoyama Gakuin University in Tokyo, has taught and published widely in both American and modern Japanese literature and culture. She received her Ph.D. in English, and two M.A.'s at University of California, Berkeley, where her research focused on Faulkner and American Modernism, the 19th-century slave narrative of Harriet Jacobs, and the short fiction of Kanai Mieko. Her research and articles have appeared in Faulkner and Print Culture, ed. Jay Watson (2017); Animal Comics: Multispecies Storyworlds in Graphic Narratives, ed. David Herman (2017); US-Japan Women's Journal (2011); Japan Forum (2017); Notes & Queries (2017); and Faulkner and Twain, ed. Robert Hamblin (2009). Her current book project, Insect Selves: Posthumanism in Modern Japanese Literature and Culture, has been supported by JSPS KAKENHI Grant JP17K02663, ACLS/NEH/SSRC, and Virginia Foundation for the Humanities (now Virginia Humanities).
Research Interests
The research of Mary A. Knighton can be broadly divided into two areas:
(1) 19th-20th century American and British literature, and
(2) Modern and contemporary Japanese language, literature, and culture.
Studies in global modernism and transnational exchanges bring these two fields together. Related research interests include feminist, postcolonial, and critical theory; the multi-ethnic literatures of the US, particularly African-American literature; the American South; Gothic literature; visual texts, arts, and culture.
Courses
Surveys in American Literature and Culture, Reading I/II, Special Topics courses in American Literature and Culture, Senior Seminar, Seminar for Graduate Students