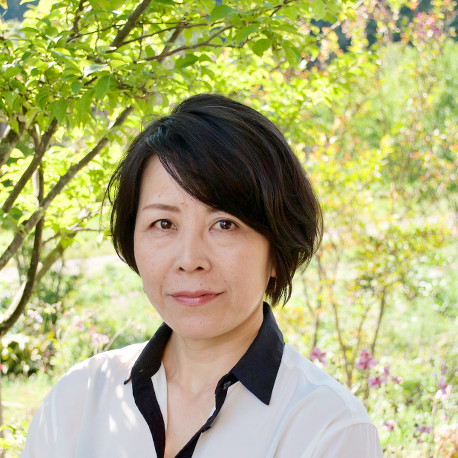 結城 正美
Professor(教授)

American literature and culture, Ecocriticism
Contact Info:
yuki.masami@cl.aoyama.ac.jp
English Department Aoyama Gakuin University 4-4-25 Shibuya, Shibuya-ku Tokyo 150-8366
Yuki Masami (her name follows the Japanese convention in which the family name precedes the given name) teaches courses in ecocriticism, environmental humanities, and American literature and culture. She studied ecocriticism in the world's first graduate program in literature and environment at the University of Nevada, Reno, in 1996-1998 on Fulbright, and received her Ph.D. (English) in 2000. In research and teaching, Yuki has focused on such topics as food in a toxic age, biocultural diversity, literary soundscape, and a discourse of survival in the Anthropocene.
Yuki's books include Foodscapes of Contemporary Japanese Women Writers (translated by Michael Berman, Palgrave Macmillan, 2015; Japanese original in 2012), Ecocriticism in Japan (co-edited with Hisaaki Wake and Keijiro Suga, Lexington Books, 2017), and Ishimure Michiko's Writing in Ecocritical Perspective: Between Sea and Sky (co-edited with Bruce Allen, Lexington Books, 2016). She has published numerous articles and book chapters including those which appear in ISLE: Interdisciplinary Studies in Literature and Environment, The Routledge Companion to the Environmental Humanities (edited by Ursula Heise, Jon Christensen, and Michelle Niemann, Routledge, 2017), A Global History of Literature and the Environment (edited by John Parham and Louise Westling, Cambridge University Press, 2017), The Routledge Handbook of Ecocriticism and Environmental Communication (edited by Scott Slovic, Swarnalatha Rangarajan, Vidya Sarveswaran, Routledge, 2019). She is a series co-editor, with Scott Slovic and Joni Adamson, of the Routledge Environmental Humanities. Yuki also served as president of the Association for the Study of Literature and Environment in Japan (ASLE-Japan) from 2016 to 2020.
Research Interests:
Ecocriticism / Environmental Humanities
Contemporary American Literature and Culture
Comparative Literature